Digital Marketing
---
For Small & Medium Enterprises
In such a highly competitive marketplace, how can your business be unique and stand out to reach your customers?
The right kind of marketing is all about connecting with consumers. This essentially involves the data generated to deliver personalized experiences.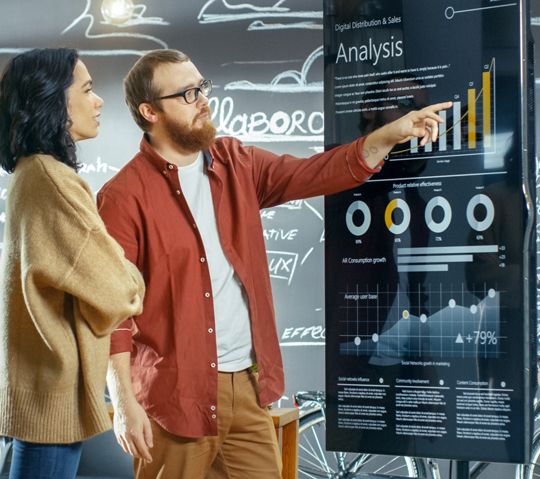 Our team of experienced digital marketing experts and accolades from industry-respected organizations like Clutch and as a winner of Communicator Award of Excellence, 2019, Ziggle Tech provides SEO, social media marketing and PPC marketing services to small to medium-size enterprises when they are looking to increase their revenue and maximize the conversion.
Marketing Strategy

We believe that the need of the hour is to create a data-driven yet human-centric marketing strategies to help your brand to evolve. The user experiences which are fundamentally rooted in information and data tend to create relationships which are built on trust and authenticity.

We enable the clients to earn and grab the attention of their specific audiences.

We help in inculcating modern and effective marketing tactics.

We help in empowering the clients with technologies that keep them well- connected and well informed.

We provide access to multiple data points and fresh insights into marketing interactions that can customer strategies.

We provide in creating marketing methodology that designed to keep a quick-moving. Along with this, we keep a fresh track of business intelligence and strategic marketing which puts humans interaction at its helm.

Social Media

Ziggle Tech

helps in establishing social media interactions when it comes to brand value and presence. The interaction is all about conversations and bringing people's attention to your doorstep. Social media is the driving force of the digital age. Our goal is simple and straightforward, to help the clients tell their own stories to their customers better.

Ziggle Tech

aims to mobilize it effectively so that it can be used as a tool to build branch rapport and scalability.

We help to organically reach out to customers and potential interest holders.

We assist in gaining momentum against the competition to grab the audience's attention.

We help in aligning with the speed of change as platforms change their algorithms.

We help brands to successfully built a rapport which is tactically quick paced, transparent about objectives and adopts an audience-centric approach.

SEO

The primary goal of the SEO strategy is to bring together the code and content to create a presence in the marketplace for your customers to locate and engage. We help to create a story about your brand, your offering, and your reputation.

Our optimization helps the search engines put in touch with human interactions. This controls the brand to research, to learn, and to buy.

We help to create a relevant and informative resource for our clients.

SEO throws light on your customer outreach. A good SEO is synonymous to technical support.

We believe that rankings are important but SEO helps in organic marketing. It is a combination of content, user experience, and desirable media platforms.

Paid Media

Ziggle Tech

deploys effective business intelligence in order to be impactful and creative. We help brands to reach the right audience at the right time.

Paid digital advertising will be optimum if there will be the right combination of data, creativity, and expertise. We connect these dots to help your brand grow. Through this process, we convert prospective customers into loyal customers.

We offer marketing specialists that cater to platforms, channels, and display networks are ever-evolving and ever-changing along with customers. We stay at the top of the game when it comes to a trend change, in-house experts or the latest tools.

We put a team of specialists to work for your brand. Our data scientists, copywriters, and designers study and execute strategies along with the ever-changing digital landscape. Collaborative efforts of our team and clients tend to produce engaging ads that get results. The leads, sales, revenue, utilization provide the metrics that agencies like to measure, so all the corners are covered when it comes to data inputs and execution.

Content Marketing

We have content marketing experts who provide insight and feedback, creativity, and strategy which comes together to create digital experiences designed to deliver optimum results.

We generate content that makes your marketing efforts connect with the customers.

Our marketing methodology hinges on quality content.

We take on the baton from our clients, to employ data to build, deliver, and amplify engaging narratives.

Creating content that resonates with your customer base is one of the primary focuses.

We generate well-crafted strategies, data, and channel expertise to find synergy between creativity and proven tactics.

Influencer Marketing

When there are multiple competitors in the marketplace, gaining consumer trust is essential yet one of the biggest hurdles to cross. The brands need figures who can vocalize the trust that their audiences like and believe in.

The sudden rise of web entrepreneurs speaks volumes about the significant role of influencer marketing. Our team approaches influencer marketing with our intuitive engagement, market knowledge, and awareness. We believe that the person making real connections with their followers has more value than the one simply with a huge amount of following. Our team study and understand the influencer landscape and trends, and how to leverage it for the benefit of our clients.
Our Digital Marketing Services
Marketing Strategy

Paid Search Engine, Social Media Marketing

Amazon SEO, Ad Marketing

Organic Search Engine Optimization (SEO)

Influencer Marketing

Content Marketing
Got it!
Keep an eye on your inbox. We'll be in touch shortly.
Meanwhile, you can explore our hottest case studies and read client feedback on GoodFirms.
Keep an eye on your inbox. We'll be in touch shortly. Meanwhile, you can explore our hottest case studies and read client feedback on GoodFirms.
See our GoodFirms reviews